A hearty Christmas feast, free sake and a comedy show by a local ventriloquist coloured the ENCE Purple Christmas in many hues, and it was especially rosy because every guest walked home with a gift in hand – thanks to a dizzying round (or two) of Santa Snatch!
Over 50 of our closest clients, vendors, partners, media friends, colleagues (old and new!) and friends joined us on Christmas Eve for a cozy lunch party held at our office in PLUS Building. Did you know that this is also our first Christmas party at our year-old office? Yet another thing to celebrate! *clinks wine glasses*
In case you missed it, we rounded up some shots of the day to commemorate this special occasion!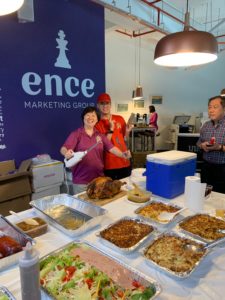 Food lovingly prepared and catered for by My NoNNa's!
Geri (Founder of My NoNNa's) and two Champions from My NoNNa's easily fed all of our guests – with a smile and electric saw in hand, of course! Big thanks to My NoNNa's for the delicious food!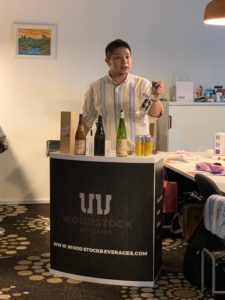 Woodstock Beverages and their various types of sake
Guests were also treated to a sake tasting courtesy of Woodstock Beverages, perfect for the festive season!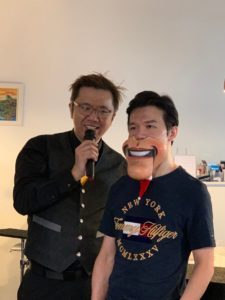 Comedy Ventriloquist Joseph Then and his "puppet"
You don't get to see a professional ventriloquist every day, but guests had the pleasure of enjoying a hilarious segment by local ventriloquist Joseph during the party! Joseph's friend "Ah Beng" made an appearance (much to the distress of some female guests…). Also, a special appearance by one of our guests who got pulled up (or sabo-ed!).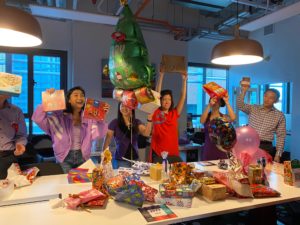 Santa Snatch to end of the party!
A salad spinner, chocolates and a jazz album…we hope our guests went home happy with their lot!
As our Managing Director, Ms Angela Sim, put it, Christmas is a time of giving thanks, and we appreciate each and every one of you who were part of our journey. To an even greater 2020!
Check out more event photos as well as more event happenings on our Facebook page.
If you'd like to find out more about My NoNNa's Gift of Giving, Woodstock Beverages or future ENCE events, hit us up!